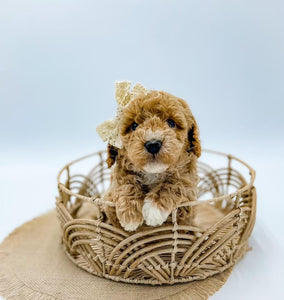 Lake Cumberland Doodle Farm
Micro Goldendoodle Girl $1,700
Regular price
$250.00
$0.00
$250 for DEPOSIT ONLY.  Full Price is $1,700.  Remaining balance expected at pickup or once delivery is arranged.
  Teddy + Penelope  
Micro Girl "Georgia"
Ready for their forever home on February 24th.  The father is Teddy, our 13lb mini poodle, and mother is Penelope, our 17lb micro goldendoodle.  All puppies will receive their first set of vaccinations, dewormed every two weeks, and introduced to early socialization techniques.  They will be litter boxed trained, crate trained, and ready to be loved!  All puppies will be sent home with 30 days of puppy insurance through Trupanion.
-  Caramel Abstract
-  Micro Goldendoodle 
-  DOB: December 28th, 2022 
Pickup available on or after February 24th!
---
More from this collection